OGH Legal: Legal Journey from UAE to Egypt
Updated 4/11/2023 8:00:00 AM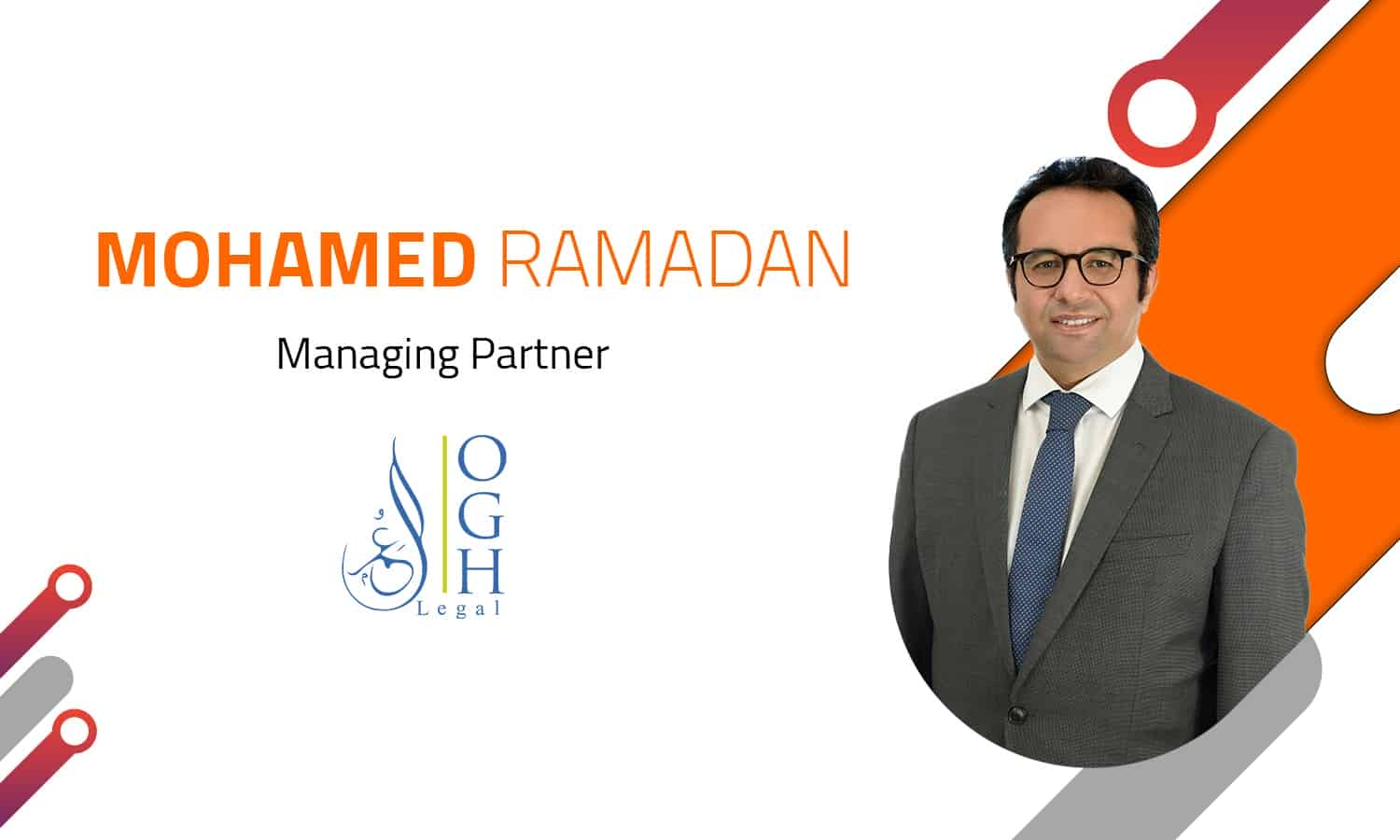 Arab Finance: The legal sector in Egypt is very strong connecting and working with other sectors like banking, business, and sports. Many international firms have expanded to Egypt as a gateway to the Middle East and Africa.
So, Arab Finance has sat down with Mohamed Ramadan, Managing Partner of OGH Legal, to discuss the reasons for expanding to Egypt as well as the firm's plans and vision, and services.
1- OGH Legal was founded in the UAE. Can you share with us the journey of the firm in the MENA region?
OGH Legal was founded in 2016 in Dubai by three expert UAE litigators: Mohamed ElGhatit, Sherif Hikal, and Omar Abdulaziz Alomar. Since then, they have grown to six partners and three offices: Dubai, Abu Dhabi, and Cairo, where I am based. OGH Legal is a MENA law firm, offering legal services to clients across the GCC, the wider Middle East, and Africa. Founding Partners Mohamed ElGhatit and Sherif Hikal are Egyptian and have continued to have strong ties to Cairo while practicing in the UAE. Their growth, both in terms of physical presence and onboarded clients, has been impressive to watch, which is why I was very interested in the prospect of heading up our legal services in Egypt.
While originally founded as a bespoke dispute resolution firm, the expertise, values, and client service standards of the firm meant that there was a strong demand for OGH to diversify. Listening to their clients, they invited me to join, not only to lead Egypt's office but also to launch our full-service corporate practice, which offers corporate services across the MENA region in alignment with our established dispute practice.
OGH has achieved in a short period of time what many firms take years to accomplish (or never succeed in doing). Recognized for the knowledge of their team, offering real value, and bridging the gap between international and local firms: a real plus point for our clients.
Now, OGH is ranked in most of the prestigious legal rankings and is well known for its in-depth expertise and knowledge.
2- As you open a Cairo branch in January 2023, which sectors or practice areas do you focus on in Egypt? And are they different from the sectors you practice in the other regions?
With the opening of our Cairo office, OGH Legal now offers corporate advisory and transactional services, as well as an established dispute resolution practice.
We are well-reputed in the construction, real estate, and infrastructure sectors, having advised on some of the largest arbitration and litigation cases in the Middle East and internationally. We also have strong financial institutions that focus on and assist with investigations, fraud, and embezzlement cases, as well as bankruptcy and insolvency matters.
I am particularly active in the life sciences, healthcare, and pharmaceutical sectors and provide clients operating in this industry with corporate advisory, regulatory and compliance, employment, and dispute-related advice. Lastly, we are also strong in the automotive sector, both in the traditional commercial and retail manner as well as the related software and IT industries.
The sectors we provide support in are construction, real estate, pharmacy, automotive, IT, Technology, and Telecommunication.
The practices that we cover are corporate, M&A, commercial and regulatory, general corporate, intellectual property, litigation, arbitration, registration and licensing, employment and HR, and data protection.
3- What encouraged you to open a Cairo office? And what is the size of your investment in Egypt?
We are committed to providing excellence in our legal services and standard of client service across the MENA region and into Africa. The world has evolved; there is no longer a need to be physically present everywhere you offer services. However, as a business, you must think strategically about where the best physical locations are for your clients. For OGH Legal, opening an office in Cairo made sense, particularly for our clients with pan-African interests.
We are fully investing in Egypt. OGH Legal has enjoyed strong connections to Egypt for several years, having facilitated our clients' inbound and outbound needs with respect to Egypt since our establishment and through hiring several key Egyptian lawyers in the UAE. We are now rapidly growing our team in Cairo itself, and we believe this expansion will be hugely beneficial to our clients and the legal market across the region.
In addition, by opening a Cairo office, we would be able to provide support to other offices throughout the region through the talented Egyptian lawyers we actively recruit. Additionally, Cairo remains the main hub for legal excellence in the region with its offerings and rich jurisprudence.
4- Why didn't you consider assisting your clients from your office in the UAE? Why is physical expansion required?
We assisted our clients from the UAE for several years, and it was working well; however, as more and more clients sought to invest in Africa, it became apparent that we needed to expand to accommodate their daily legal needs.
Egypt is a high-growth market, enjoying a huge amount of foreign investment, and is often said to be the gateway to Africa. It is a business-friendly jurisdiction for multinationals, with positive attributes such as tax exemptions and ease of set-up. It also has an excellent geographical location, being close to major trade routes such as the Suez Canal. There are also great synergies between the UAE and Egypt, including strong bilateral relations and trade agreements.
Opening the office in Cairo was inevitable to continue supporting our clients around the region and those who plan to invest in or maintain investments in Egypt.
5- What international disputes has OGH Legal handled that you can share with our readers?
Most of our cases are the most valuable currently being heard at the local UAE courts. Almost all of our current mandates are more than $50 million, and our book of work for disputes is now more than $12 billion—reflecting the high-quality work we do.
The majority of our cases remain confidential; however, one I can mention was the infamous Address Downtown Hotel fire (Dubai). We successfully represented one of the contractors against the insurance company regarding liability for the incident.
6- What does the ranking in the Chambers Global Guide mean to you? And how is it in line with your vision and plans?
The Chambers Global Guide is one of the most prestigious legal directories globally. We are delighted to be recognized as a firm as well as on an individual level, which showcases the strength of our position in the market. It fits in with our vision and plans in the sense that we will continue to offer first-rate legal advice to our clients at high service standards. It is great to be recognized for this, and we appreciate the work and effort that go into the research of these directories.
7- How do you expect to overtake established legal firms that have built a strong reputation in the Egyptian market? And how do you perceive the market's competition?
The legal market in Egypt is strong, and these firms deserve their reputation. What we offer is totally different, both in Egypt and the UAE. OGH was founded to bridge the gap between international and local firms, and this objective remains as true in Egypt as it does in the UAE. We have rights before the local courts and deep sector knowledge, and we pride ourselves on providing value and a high standard of client service. By expanding organically, we have ensured that these firm values remain at the core of everything we do.
8- In your opinion, what are the challenges the legal sector has in Egypt? And how do you plan to face them?
The legal sector in Egypt faces the same types of challenges as many countries across the Middle East. On occasion, the judicial system can be overburdened, which may result in prolonged court proceedings. The system is complex, which can make it difficult for our clients to navigate, even with in-house legal counsel is complex, which can make it difficult for our clients to navigate, even with in-house legal counsel. It is important for clients to recognize the need for external counsel who is skilled and experienced in the Egyptian judicial system from the beginning. We sometimes see a reluctance to invest upfront in external counsel, which ultimately leads to avoidable further spending later down the line.
Other challenges include the lengthy procedures with the government in relation to handling a number of matters, the complicated issues that investors face in Egypt, and the different legislations that you need to advise your clients on.
The business mentality is often lacking in legal practice. This is something that we consider overcoming by hiring and training lawyers on the business side and having lawyers who have both legal and business knowledge.
The legal market in Egypt is also hungry for quality in terms of service provided and follow-up with clients. The concept of a lawyer partnering with the business is not emphasized, unlike in other jurisdictions where lawyers work hand in hand with the business to ensure that the companies operate legally and navigate easily through the various and complicated legal settings.
9- How did the COVID-19 pandemic affect the arbitration cases and the firm's business in 2022?
In times of stress, we see an increase in arbitration cases. The pandemic was unprecedented in our time, and therefore we saw delays and backlogs, force majeure claims, insurance claims, as well as breach of contract claims and non-payment disputes. However, we also saw the rise of remote proceedings and a new, virtual world showcasing the need for flexibility and adaptability in the arbitration process, which we can now say was a positive step for the legal system.
10- What advice would you like to give to foreign investors who are considering expanding to Egypt?
Egypt offers an abundance of opportunities for foreign investors. The government offers a range of investment incentives to attract foreign companies, including tax holidays, customs exemptions, and subsidies for certain sectors. There have also been a number of economic reforms in recent years, including the streamlining of business regulations. From a logistics perspective, Egypt is strategically positioned to act as a hub in other jurisdictions, and infrastructure investment in recent years has increased heavily, making it easier to transport goods and access other markets. We also have a skilled and multilingual labor force and a large domestic market. In terms of advice, I would recommend any foreign investor engage a lawyer from the beginning to help him or her navigate the new legal and regulatory framework for the business, ensuring the investor avoids any unnecessary pitfalls or risks.
Related News